Kahoot! An Easy To Use, Multi-Device Quiz Platform
Kahoot! is a new tool for teachers that is similar to apps such as Socrative or Nearpod. Kahoot allows teachers to create multimedia quizzes and present them to students in a game based environment. Teachers design their quizzes and surveys online at the Kahoot website using a very simple drag-and-drop interface. You can also browse pre-created quizzes and use them with your students. When you are ready to present the quiz, you need two things: a device/projector to show the quiz on, and devices for the students to answer on. Unlike some other tools, Kahoot can be used on almost any device with an internet connection – tablets, computers, smartphones, Chromebooks, and more. The quiz is presented in a fun game format, and results are shown on the leaderboard. This looks like a fun way to get students excited when reviewing a subject.
57 Free Digital Interactives For All Teachers… Plus 8 Free Mobile Apps
Today's tip is all about interactive tools! This website has 57 different interactive tools that will help your students interact with their topics. There are a few that require downloading something (which they won't be able to do on their netbooks…), but a lot of them just open up the projects in a different window. Check some of these out if you get a chance! I hope you find something you can use!
19 Holiday Websites For Your Students
This time of year is always busy! To give your students something fun to do while you are grading tests and putting them in the gradebook….show them this website! There are lots of fun and interactive holiday games! Enjoy!
Want to know how to help your students better understand their Google search results? Show them how to change the reading level!
Directions:
Go to www.google.com
At the bottom right hand corner, click on "Settings"
Click on "Advanced Search"
Type in your search terms
Scroll to the bottom and change the "reading level" to the desired level.
Freebook Sifter
makes it easy to find over 44,000 free eBooks on Amazon.com. Why not browse the categories to see what sparks your interest? Categories range from Advice& How-to, Children's eBooks, Mystery, Self-Help, Teens, and many more! It is easy and simple to use. Select a category, look at the available titles, see how many people have rated the book and what they have rated it, click on the book and download it for FREE on Amazon.
Cite That Image Correctly!
By Alma Row
Fair Use guidelines give educators a lot of freedom to use copyrighted material, but all too often Google Images is incorrectly cited as the source of an image. Along comes TinEye to the rescue! After either uploading an image (or supplying its URL), this site will scan for other pictures that electronically match the picture-in-questions characteristics. This program is in beta form right now and you must request an account, but there is an Internet Explorer and Firefox plug-in that will allow you to right-click any image and get the source information. No longer does one have to abandon a picture because it can't be cited properly.
Isn't it great to start the week on a Tuesday? Today's tip is all about Common Core alignment! OpenEd is a site that claims to be the world's largest educational resource catalog. On OpenEd you can search for videos, games, and other educational materials. Your searches can be conducted according to content area, grade level, Common Core standard, or a combination of those factors. You can also search according to keyword although when I tried the keyword search option it didn't work well. As a registered OpenEd user (registration is free and takes less than thirty seconds to complete) you can create courses and playlists of videos and other materials that you find in the OpenEd directory. You can align your courses and playlists to standards. If you choose to align your course to a standard, OpenEd will suggest materials to you.
Free eBook links
Original information and links supplied by Christine Peterson, Finding Free Ebooks, 2012 Arkansas
Library Association Conference with additional annotations from Arkansas State Library, Office of Network Services.
NOTE: These selections are downloaded to your computers then transferred to another device.
FOLLETT DIGITAL READER APP
If you haven't already, download the Follett Digital Reader app on your device. It's free.

Ope

n the app: FOLLETT DIGITAL READER

On settings, you will need to put in the address:
(Senior High School use: http://wbb09903.follettshelf.com)
(Junior High School use: http://wbb29207.follettshelf.com)
Enter your Username and Password (If you don't have a username or password, see Mrs. Watkins or Ms. Kleck)

Click on Connect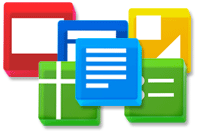 Do you love Google Docs and want to see what other people have set up? Visit the link below to see LOTS of ready-made templates! https://drive.google.com/templates#
September 11th Resources
These materials were developed by federal grantees and agencies in commemoration of the tenth anniversary of September 11, 2001. The materials are provided as a convenience for teachers and others seeking resources for teaching about September 11.
Remind 101
Remind101 is a great way for teachers to send reminders to students and parents without getting or giving their personal cell phone numbers! Sign up so your students and their parents can receive reminders about upcoming tests and assignments!
Pixel of Ink
This Tuesday Tech Tip will get you free and discounted books! All you have to do is subscribe by email to the Pixel-of-Ink website, then you can start downloading free and/or discounted books to your kindle reader/app!
ITunes
If you would like to find out a way to sign into iTunes without giving a credit card/debit card number, follow this link.
Use your smartphone to as a document or photo scanner.
Smartphones are quickly becoming an all-in-one replacement solution for many of the other technology based devices that we own.
Follow this link to find out how to use your iPhone or Android as a replacement for a scanner.
The Susan Gilley Daily
This is a great compilation of educational/technological articles that you may find useful, including links to free technology sites for teachers.
APPitic is a great place to explore educational apps.
It
is a directory of apps for education by Apple Distinguished Educators (ADEs) to help you transform teaching and learning. These apps have been tested in a variety of different grade levels, instructional strategies and classroom settings.
Educational consultant Linda W. Braun cites the hottest applications and how to use them to engage teens. Enjoy!
PBS Video
Have you looked at PBS lately? They have lots of videos that you can play for free. You can w

atch award-winning national programming and locally produced shows. Catch up on the episodes you may have missed and watch your favorite, full-length videos.

Look at what they have to offer for you or your classroom!


The Book Seer
Want to know what to read next? Go see the Book Seer.
Most of these are classics, but with the implementation of Common Core, you might need some of these and free is always good!